A magazine article featured in GQ Japan
(January/February issue, 2018)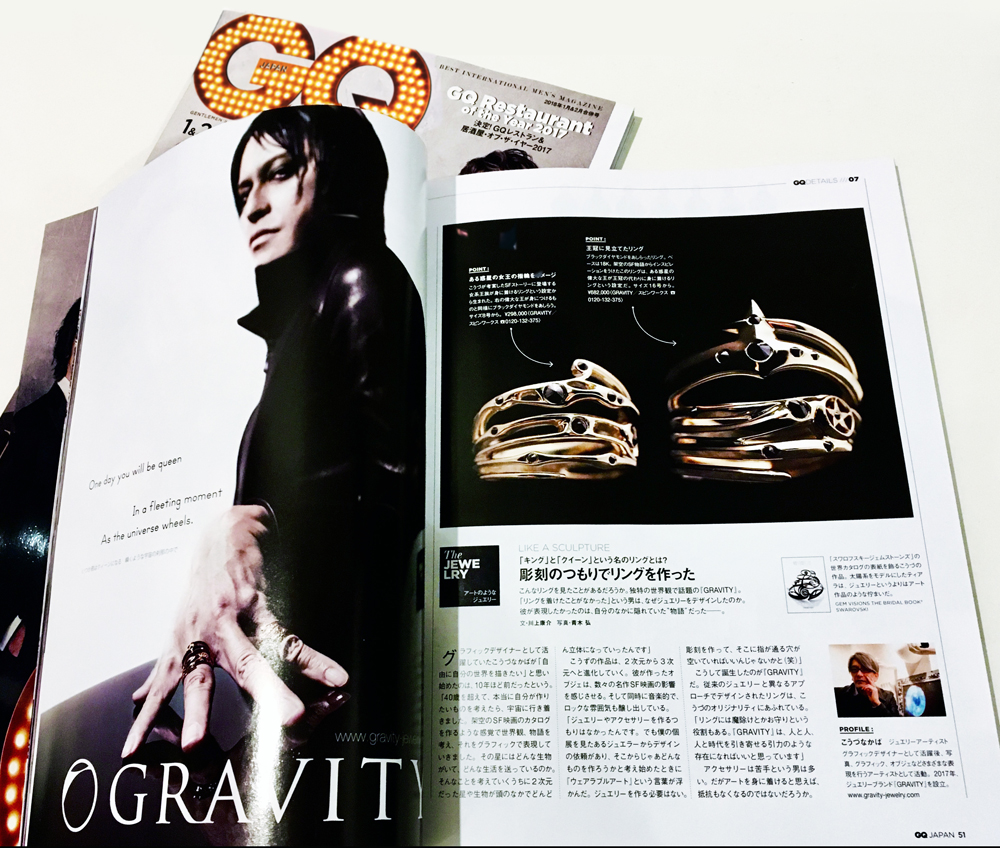 Rings as sculpture: A story of the rings, the King and Queen
These never-before rings are new creations from GRAVITY, a studio popular for its unique cosmic world. Why would a man who has never worn a ring himself be designing jewelry? It seems he wanted to give voice to a story that was hidden inside him.
Written by Kosuke Kawakami
photograph by Hiroshi Aoki (portrait)
(Reprint from GQ Japan)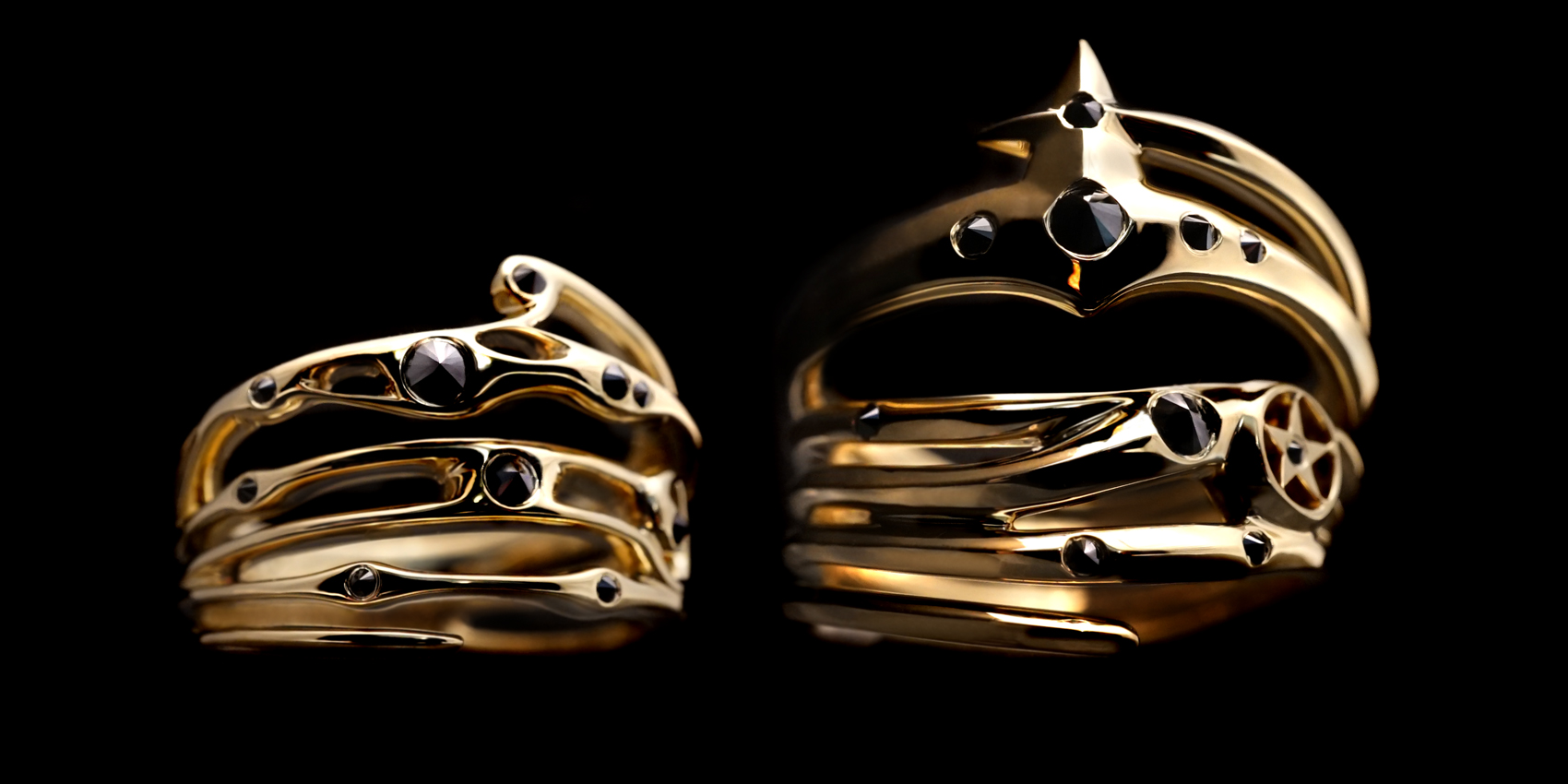 It was some 10 years ago that Nakaba Kowzu, then an established and popular graphic designer, started feeling a desire to express his own world more freely.
Kowzu said, "When I turned forty, I thought about what I really wanted to create, and I realized it should be something connected to space. I started to create a world and a story as if I were creating a catalogue for an imaginary science fiction film, and I expressed the story graphically. What sort of beings would live on a star, and what sort of life would they live? While I was thinking of that kind of thing, the two-dimensional star and its inhabitants took on a sense of depth and became three-dimensional.
As a result of this impressive evolution, the art objects Kowzu is creating now suggest influences from a number of masterpiece science fiction films. At the same time they are quite musical, emanating a rock atmosphere.
"At first I had no intention of creating jewelry or accessories. Then one day a jeweler saw my art exhibition and asked me to design some jewelry. So I did some brainstorming about what to make, and came up with the notion of 'wearable art.' There was no need to make jewelry, I could just make a sculpture with a hole for a finger!"
In that way GRAVITY was born. These rings, created through a completely different design approach than usual jewelry, radiate the originality of Kowzu.
"A ring also functions as an amulet or charm. I hope GRAVITY will be a sort of attractive force, drawing together people and people, people and time."
There are a lot of men who are not keen on wearing accessories but I suspect the idea would be more appealing if they thought of them as art.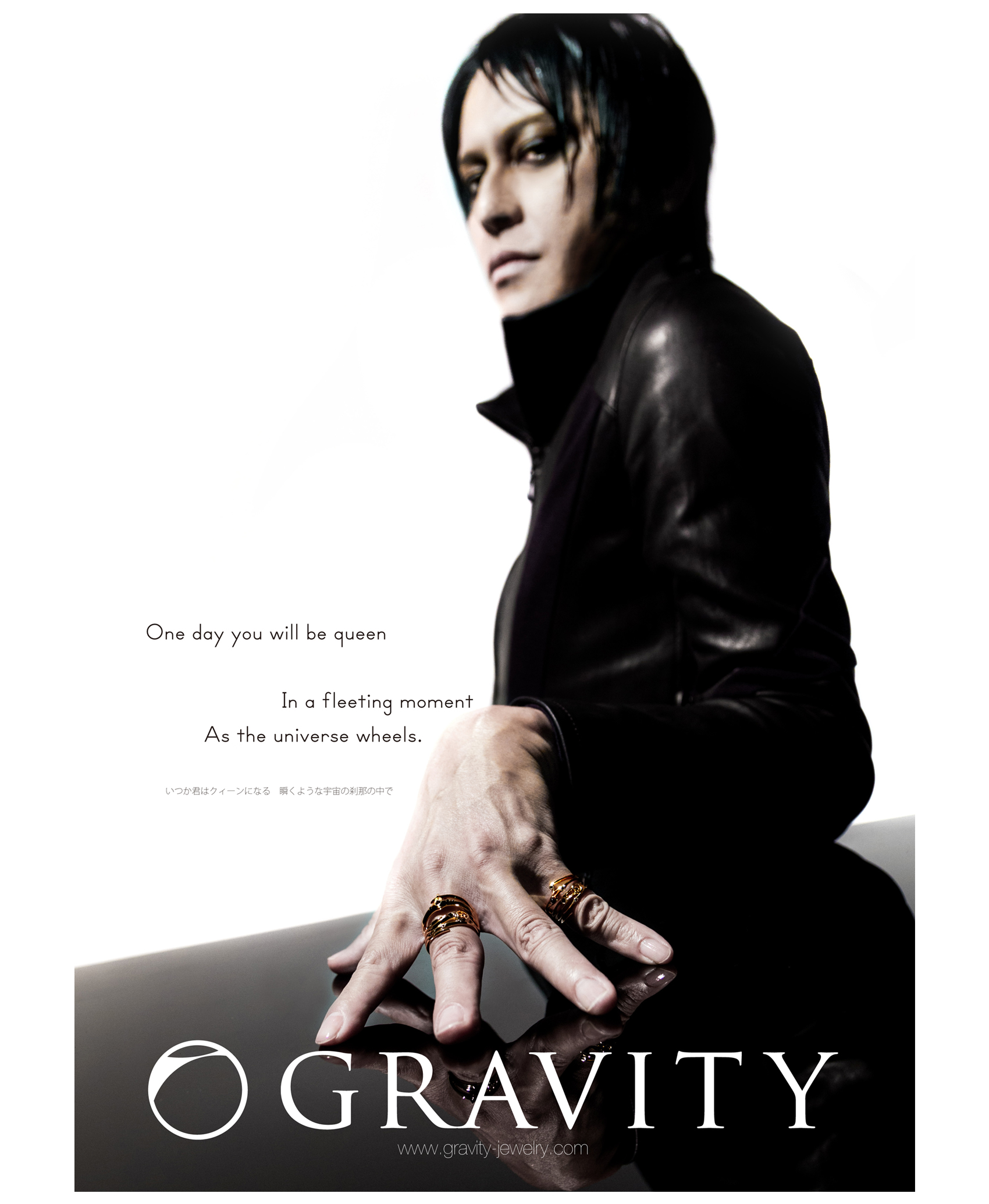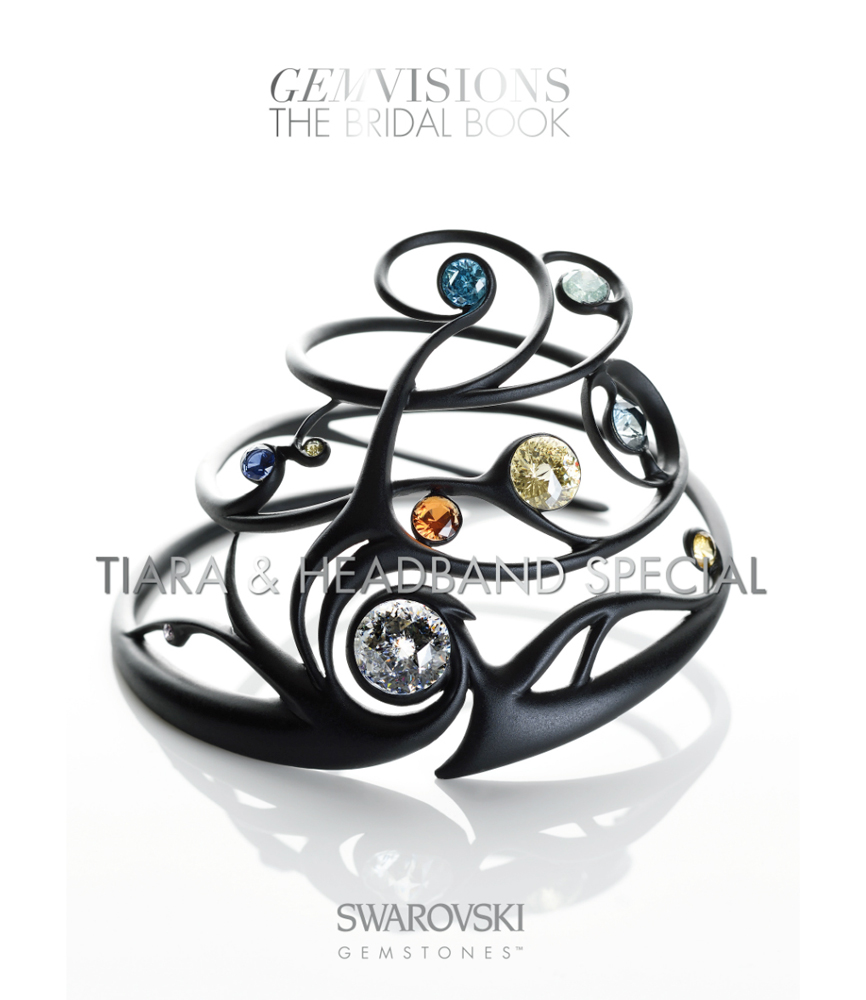 GEM VISIONS THE BRIDAL BOOK® SWAROVSKI
Kowzu's work is featured on the cover of the world catalogue of Swarovski Gem Stones. This tiara, modeled after the solar system, has the presence of an artwork rather than simply a piece of jewelry.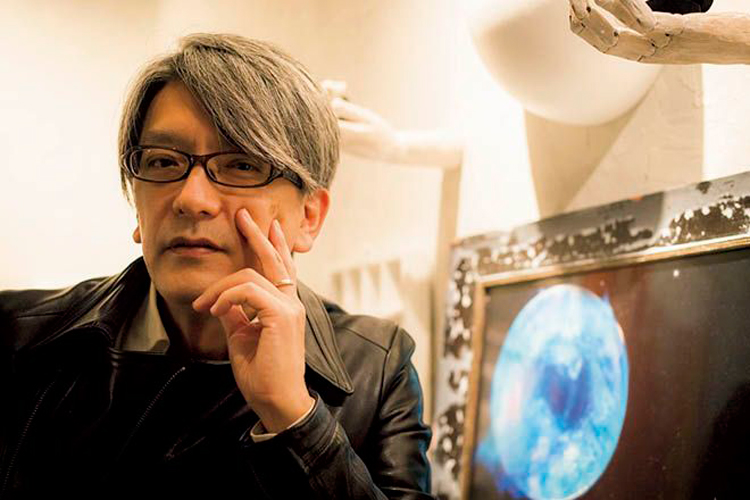 メディア掲載情報 GQ JAPAN
2018年1、2月合併号に掲載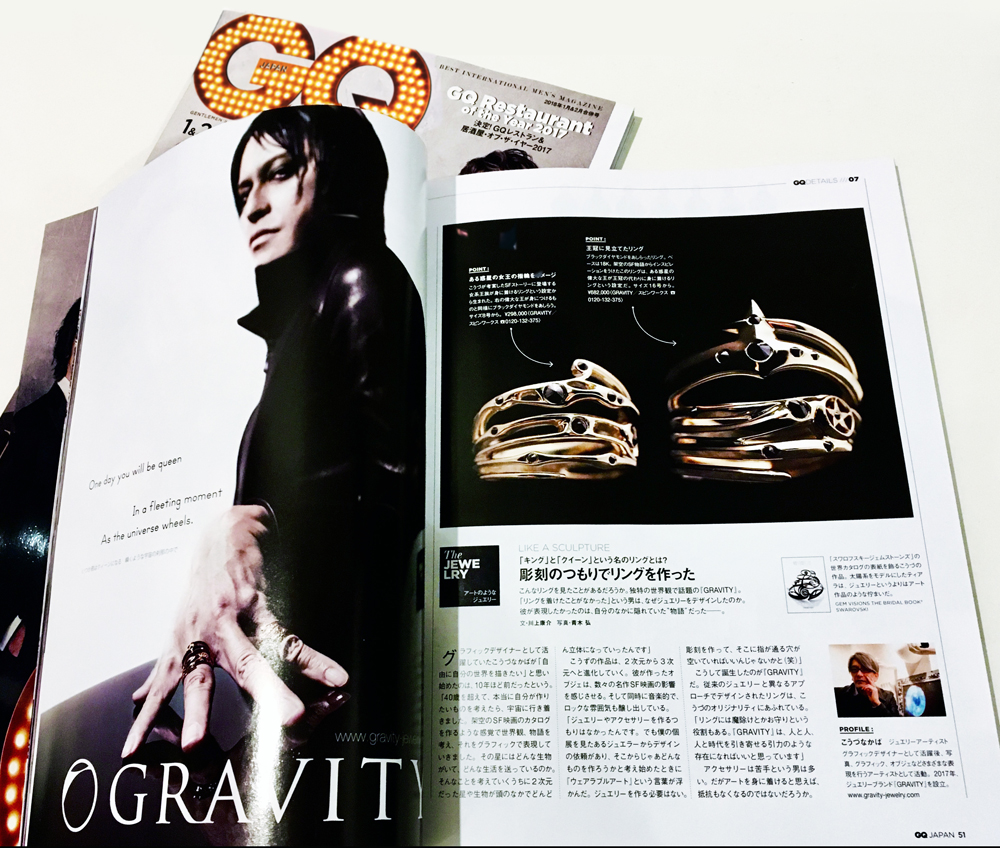 「キング」と「クイーン」という名のリングの逸話──彫刻のつもりで作ったリング
こんなリングを見たことがあるだろうか。独特の世界観で話題の『GRAVITY』。「リングを着けたことがなかった」という男は、なぜジュエリーをデザインしたのか。彼が表現したかったのは、自分のなかに隠れていた"物語"だった─。
文・川上康介 写真・青木 弘(ポートレイト)
転載:GQ JAPAN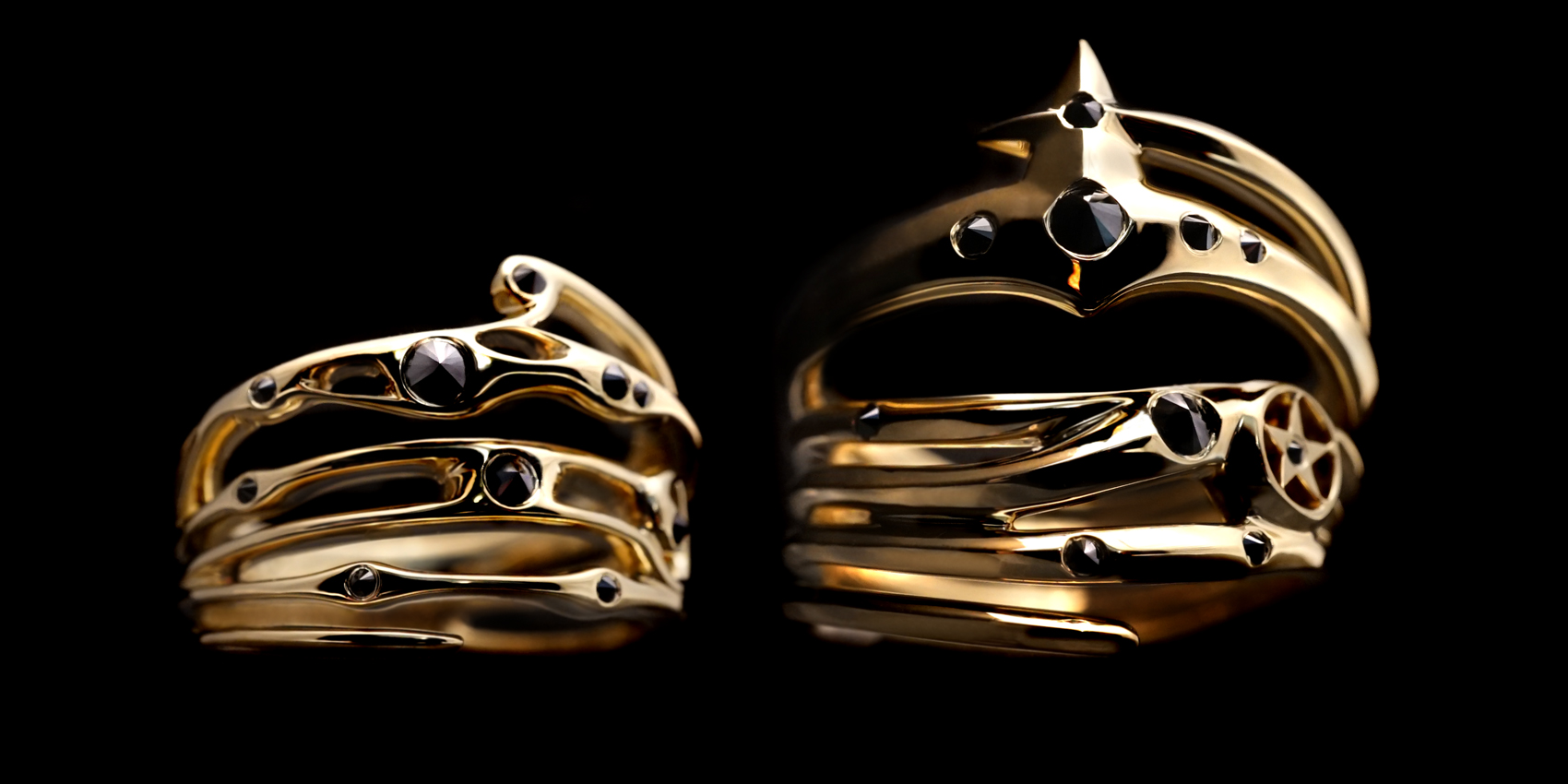 グラフィックデザイナーとして活躍していたこうづなかばが「自由に自分の世界を描きたい」と思い始めたのは、10年ほど前だったという。
「40歳を超えて、本当に自分が作りたいものを考えたら、宇宙に行き着きました。架空のSF映画のカタログを作るような感覚で世界観、物語を考え、それをグラフィックで表現していきました。その星にはどんな生物がいて、どんな生活を送っているのか。そんなことを考えていくうちに2次元だった星や生物が頭のなかでどんどん立体になっていったんです」
こうづの作品は、2次元から3次元へと進化していく。彼が作ったオブジェは、数々の名作SF映画の影響を感じさせる。そして同時に音楽的で、ロックな雰囲気も醸し出している。
「ジュエリーやアクセサリーを作るつもりはなかったんです。でも僕の個展を見たあるジュエラーからデザインの依頼があり、そこからじゃあどんなものを作ろうかと考え始めたときに『ウェアラブルアート』という言葉が浮かんだ。ジュエリーを作る必要はない。彫刻を作って、そこに指が通る穴が空いていればいいんじゃないかと(笑)」
こうして誕生したのが『GRAVITY』だ。従来のジュエリーと異なるアプローチでデザインされたリングは、こうづのオリジナリティにあふれている。
「リングには魔除けとかお守りという役割もある。『GRAVITY』は、人と人、人と時代を引き寄せる引力のような存在になればいいと思っています」
アクセサリーは苦手という男は多い。だがアートを身に着けると思えば、抵抗もなくなるのではないだろうか。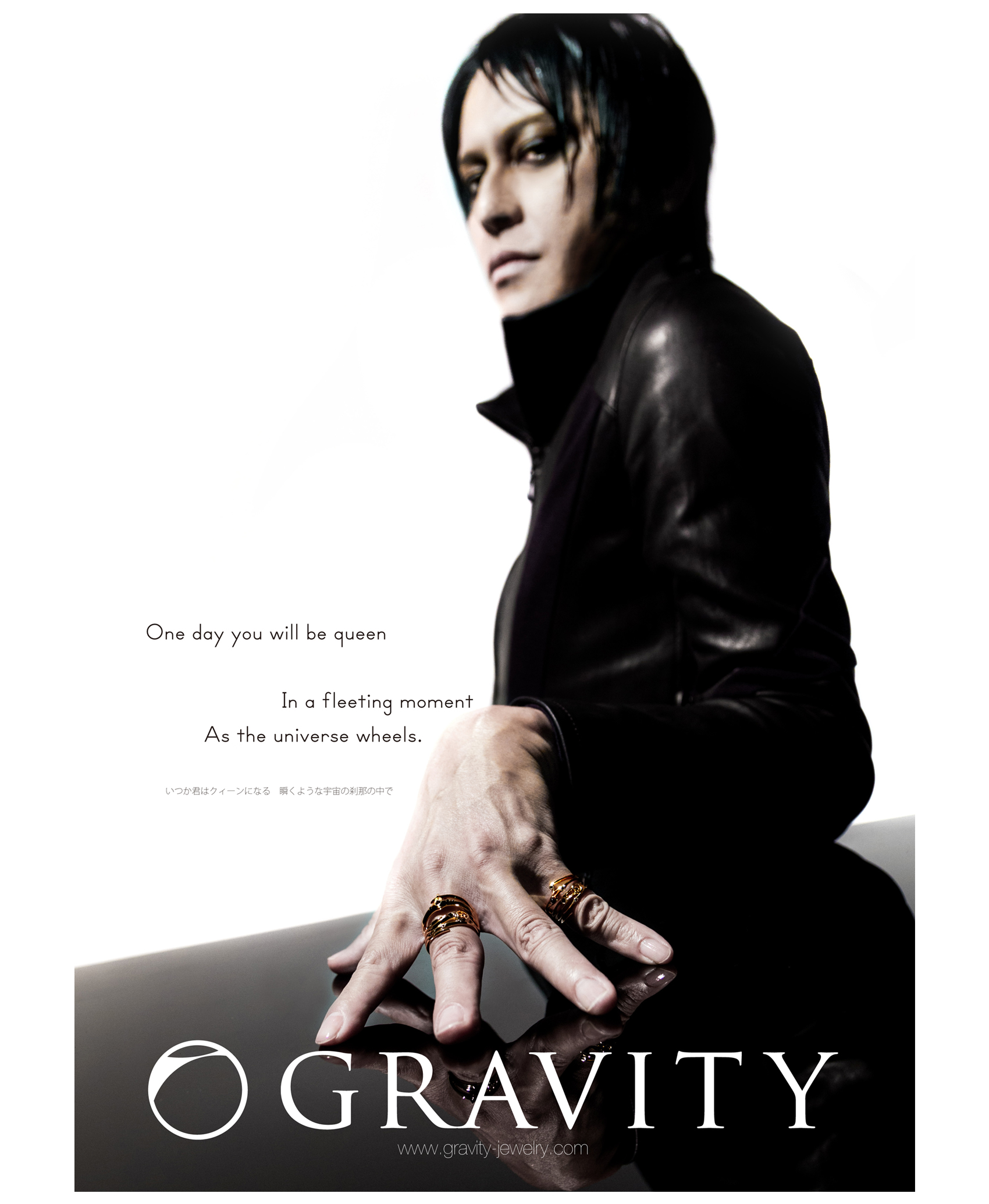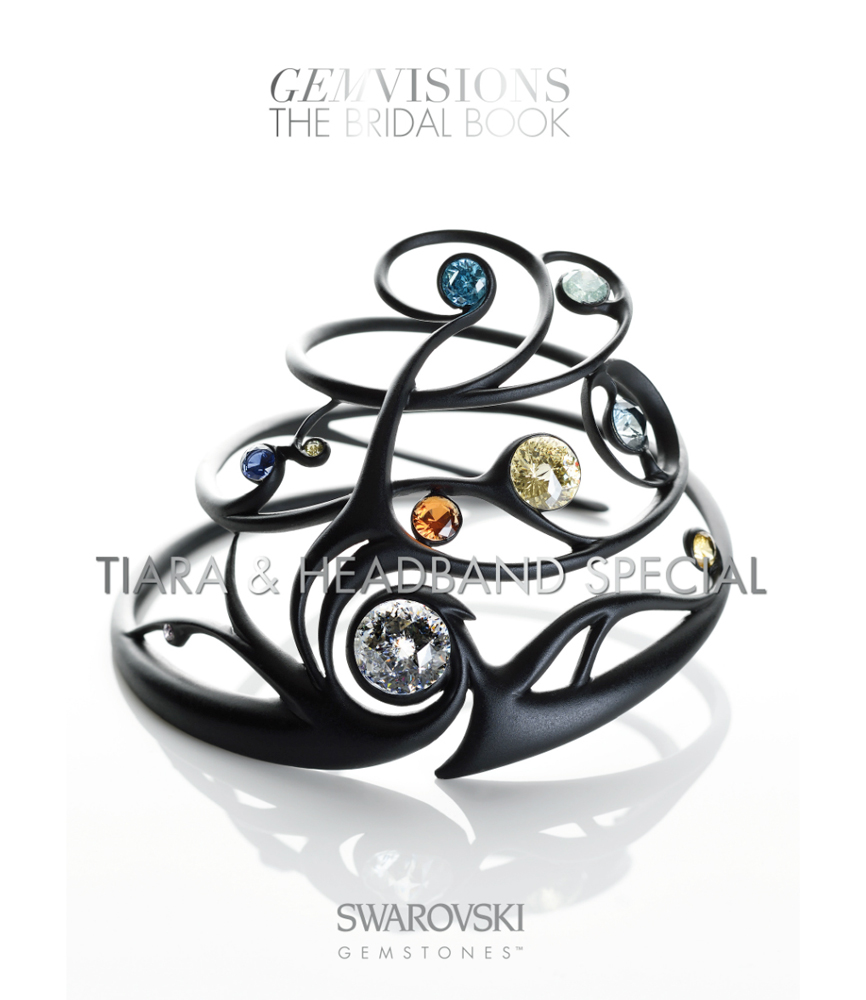 GEM VISIONS THE BRIDAL BOOK® SWAROVSKI
「スワロフスキージェムストーンズ」の世界カタログの表紙を飾るこうづの作品。太陽系をモデルにしたティアラは、ジュエリーというよりはアート作品のような佇まいだ。